ClearView Radiation Shielding
Rolling Shields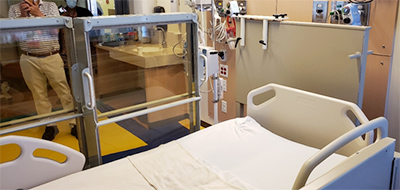 T-Flex® Floor Tiles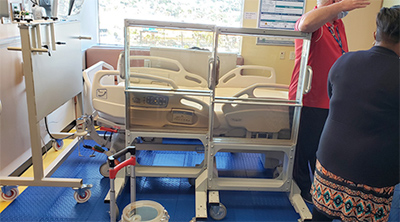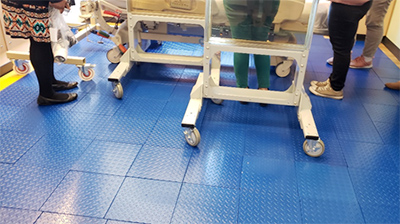 ClearView Radiation Shielding –
Shielded Waste Container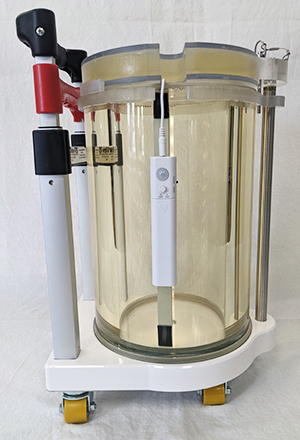 Turnkey Solution – Retrofitting Hospital Room for Radiotherapies
Understanding the growing need of radiation shielded rooms for radiotherapies, cost and structural limitations, Radium is presenting an innovative turnkey solution to retrofit hospital rooms to shielded rooms for Theranostics using our Tungsten based ClearView Radiation Shielding and Bismuth or Tungsten based T-Flex® floor tiles. This solution suitable for performing therapies such as Actinium-225 PSMA, I-123 and I-131 mIBG therapies, Lutathera (Lu-177) therapies for Neuroendocrine Tumor Treatment, FDA approved PluvictoTM (lutetium Lu 177 vipivotide tetraxetan or as 177Lu-PSMA-617) for the treatment of prostate-specific membrane antigen–positive metastatic castration-resistant prostate cancer (PSMA-positive mCRPC). Radium's solution is half the time and cost of a lead-lined room savings hundreds of thousands of dollars and quick turnaround of 2 months.
Need – Therapy Room with adequate shielding such that rooms above, below and adjacent areas to the therapy rooms are safe
Most Common Practice – Lead Lined rooms, which are cost prohibitive to many programs that want to start therapy programs
Construction of a Lead Lined rooms is very expensive, up to or greater than $1M.
Large overhead costs and funding approvals take months and sometimes even years.
Requires tearing down a room and structural reinforcements to withstand floor loading of lead.
Dealing with architects and construction approvals, months of unusable rooms.
Such limitations inhibit the growth of a therapy programs and reduce available locations for specialized patient care.
ClearView RS Rolling Shields – To shield hallways and adjacent room

Option 1 – 2 or more ClearView RS Rolling Shields placed by the patient bed
Option 2 – L Shaped shield setup around the patient bed

ClearView RS Waste Container – protection from the Foley Bag
T-Flex® Floor Tiles – To shield rooms above and below the therapy rooms.

Place on the floor of therapy room and
Floor of the room above the therapy room
T-Flex® Bismuth Floor Tiles

Designed to protect against Co60 in NPP's
Lightweight
Modular size of 1' x 1'
Non-Porous
Easily Cleanable
Lightweight
Max Floor Loading needed ~20 lbs./sq.ft.
Lead free and non-toxic
To save on costs and promote isolation, it is highly recommended that a corner room on the top floor of the hospital be identified as a therapy room.
Additional Optional Offerings –
Material Properties
DOT (US), IATA, IMDG certified non-hazardous and environmentally friendly.

NFPA, HMIS rating 0 (Fire, Physical Contact and Reactivity)

Does not create internal sources of radiation.

Non-toxic, non-abrasive to human contact.

Contents safe as per OSHA and EHS regulations