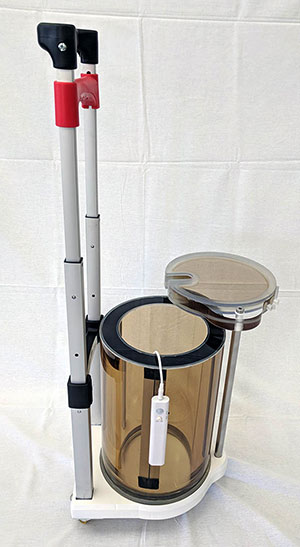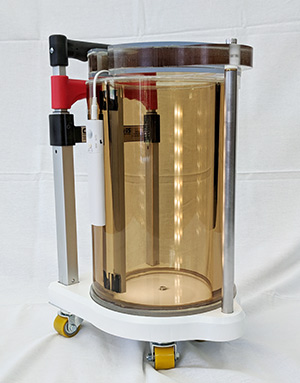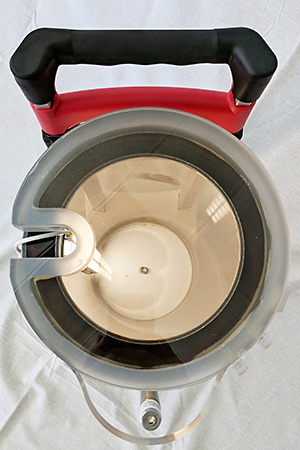 ClearView Radiation Shielding – Shielded Waste Container
Our mobile transparent shielded waste container shields Gammas emitted during inpatient radiotherapy. Urine bags and other types of liquid holders with tubing can be placed inside the shielded container with the lid closed.
Features:
The container and lid for ClearView Shielded Waste Container is fabricated from impact resistant clear polycarbonate and acrylic.
The transparency will enable to monitor the waste levels without opening the lid and exposing staff to radiation. This will provide whole body dose protection.
The shielded container has a 6'' ID which has a capacity of over 5 L, and a standard 30 cm x 30 cm urine bag will fit comfortably.
The shielded lid can swing out to allow 100% access to the opening. Access for tubing is provided in the lid.
The shield is mounted on a mobile cart fabricated from lightweight aluminum.
The mobile cart has a telescope handle which provides ease of transport and movement to other locations.
The mobile cart has a motion control with manual control option for an LED light bar which will illuminate the inside of the ClearView Shielded Waste Container. This feature will enable waste monitoring level from outside without needing to open the lid or lift the bags.
The modular size will not interfere with routine operations.
Custom size shields can be designed at additional costs.
Gamma Attenuation
| Isotope |  Gamma Energy (keV) |  HVL (in.) |
| --- | --- | --- |
| ** I – 131 | 364 | 0.55 |
| *a F – 18 | 511 | 0.9 |
| * Cs – 137 | 661.7 | 1.0 |
| *# Co – 60 | 1250 | 1.5 |
** Testing performed at Nuclear Medicine department at University of Wisconsin – Madison.
*a Testing performed at Carbone Cancer Center at University of Wisconsin – Madison.
*Testing performed at The University of Wisconsin's Radiation Calibration Laboratory (UWCRL), an Accredited Dosimetry Calibration Laboratory by American Association of Physicists in Medicine. UWRCL is accredited through the American Association for Laboratory Accreditation for meeting the performance criteria of the internationally accepted ISO/IEC 17025,
*#Co-60 – Testing using ANSI / HPS N 13.11 Standard.
Material Properties
DOT (US), IATA, IMDG certified non-hazardous and environmentally friendly.

NFPA, HMIS rating 0 (Fire, Physical Contact and Reactivity)

Does not create internal sources of radiation.

Non-toxic, non-abrasive to human contact.

Contents safe as per OSHA and EHS regulations