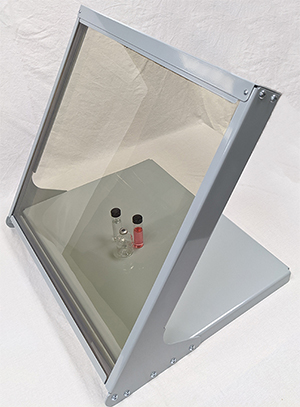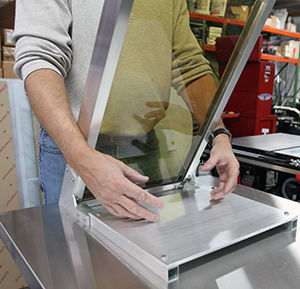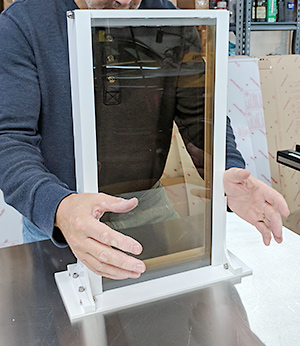 ClearView Radiation Shielding – Tabletop Shields
Working behind conventional L blocks with small viewing windows and lead provides minimal shielded viewing area and often leads to additional dose while working with radioisotopes. The ClearView Tabletop shield provides a large protected area while dose sampling, performing quality control handling, testing, sampling and transferring radioisotopes. Ideal for radiopharmaceuticals, nuclear medicine, etc.
The frame and work platform is constructed with powder coated aluminum. The viewing window can be adjusted at 45° and 60° angles. The housing container for the ClearView solution with be fabricated out of impact resistant clear polycarbonate.
The tabletop shields are available with and without a work platform. The dimensions and thicknesses of the tabletops can be altered to fit a smaller or larger footprint and viewing window. Additional shielding with the ClearView Bricks and ClearView Glovebox can be added to the sides of work platforms to provide a 360° protection.
Shielding Data
Greater than 0.5'' Pb. Eq. (80%) from PET isotopes such as Cu64, F18
Greater than 99% attenuation of I123, I125, Sm153, Tc99m, Lu177, Gd153, Th201 gammas
Effectively blocks β- emissions.
24″ x 24″ Model Specifications
Weight – 100 lbs
Shield Dimensions – 24''H x 24'' W
12 mm Polycarbonate housing
Optional work platform behind
Available in 1.28'' Pb.Eq. Shielding for (> 98% attenuation against Cu64)
Other sizes are available.
Material Properties
DOT (US), IATA, IMDG certified non-hazardous and environmentally friendly.

NFPA, HMIS rating 0 (Fire, Physical Contact and Reactivity)

Does not create internal sources of radiation.

Non-toxic, non-abrasive to human contact.

Contents safe as per OSHA and EHS regulations