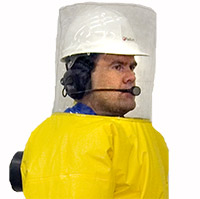 Hardhats and intercom system can be worn in the hood. (Category 2 Model Shown)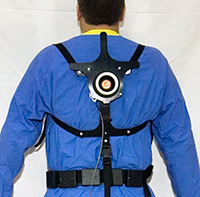 The Category 2 model (back mounted) is a very compact and lightweight (<2 lbs.) back pack unit.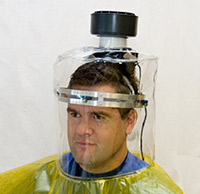 Category 3 model (head mount) used to access limited access spaces, provides high flow air down the front of the head for defogging.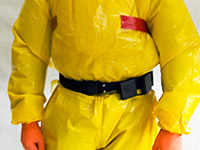 A very thin (3/4" Thick) power belt supplies power to the system for 3 – 6 Hours depending on options. The power belt can be worn inside or outside protective clothing.(Poly sleeving not shown)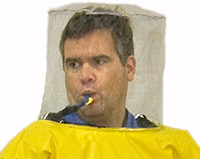 Optional in suit hydration bladder mount for Hurricane Hood Category 2.
Powered Air Purifying Suit – Hurricane Hoods
Radium Incorporated (Radium) set out on a mission to develop the ultimate personal breathing and cooling system for the nuclear power industry worker. This same technology can be used for medical workers fighting the Coronavirus COVID 19 pandemic. Medical workers had no choice but to use respiratory protection products that made it difficult to breathe, were obstructive to use, and created an extremely hot and stressful environment to work. The Hurricane Hood™ line of products is the industry solution for a problem that has lingered long enough.
Radium's patented (#7832396 ) Hurricane Hood system is more than just a personal containment system that provides ample air, it also protects you from potentially wet environments. The protective suit is made from rugged polyvinyl chloride (PVC). The once-use suit protects the medical worker and the Hurricane Hood blower system.
The Hurricane Hood line of products provides options such as miniature wireless color cameras, wireless communications, LED lights, and a new Hydration Pack with the freedom from cables and hoses. When you purchased a Hurricane Hood, you have purchased a modular platform that can be configured for numerous jobs. A Cat-2 (back mount) can be configured as a Cat-3 for head mounting with the addition of the Cat-3 Halo Band. .
The Hurricane Hood modular blower system provides high flow (33 CFM) of filtered (HEPA) air into the suit for breathing and cooling the worker. The concept is simple, provide enough filtered air in the suit to displace the trapped hot air in the suit. The high air flow provides other benefits such as defogging the hood.
The Hurricane Hoods are currently not NIOSH approved.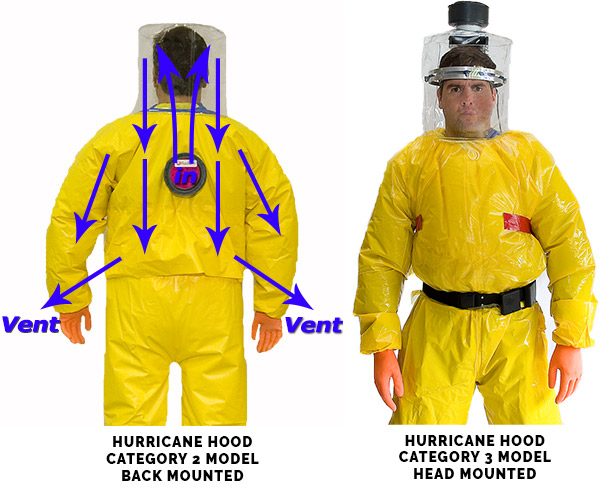 Hurricane Hood System Advantages
Provides OVER 33 CFM of filter air flow. This is more than 5 times the amount of air flow required for a NIOSH powered air purifying respirator.
Eliminated all hoses! – removes a serious safety hazard of crimping and cutting hoses.
High performance lightweight blower with optimized air flow path.
Everything from headsets to hard hats can be worn under the hood.
Modular design that can be easily configured to a head mounted CAT-3 model or to a back mounted CAT-2 with minimal additional parts.
Powered by a very thin (only ¾" thick!) adjustable power belt configured with 2 banks of 12-volt batteries to supply power to the hood for up to 6 hours.
Optional 3rd 12-volt battery bank for additional equipment or extended use
Electrical connectors have a locking mechanism to prevent accidental disconnection
The power belt buckle is made from heavy duty thermal plastic that requires a double action to disconnect.
The power belt can be sleeved in poly sleeving and worn on the outside of your outer protective clothing (PCs) to allow for quick in the field swaps without removing the user's outer layer PCs
Very low cost of ownership. Does NOT require air compressors, air filter banks, air lines, air support and monitoring personnel, piping and plumbing, and all of the maintenance that comes with a breathing air system.