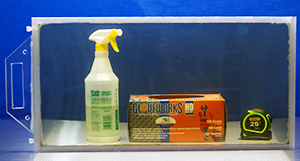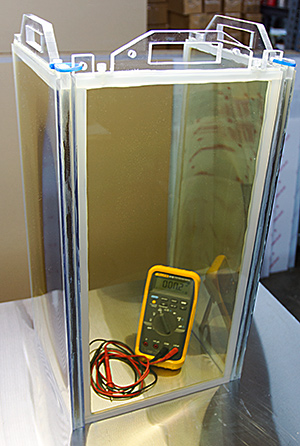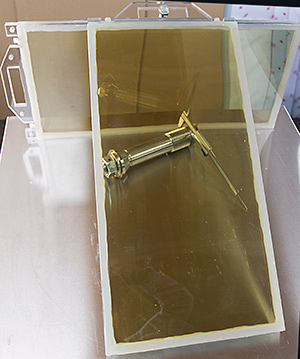 ClearView Radiation Shielding – Shielded Inspection Panels
ClearView Radiation Shielding panels are multipurpose transparent shields providing large viewing windows. The housing of the ClearView solution is constructed of impact resistant polycarbonate. The polycarbonate wall thickness will be determined by the size of a panel. The panels can have handles attached and can be joined with zip ties if needed. The design and features of transparent ClearView Radiation Shielding panels makes it suitable for many applications.
Shielding for patient beds undergoing radiotherapy in any form such as Brachytherapy
Maintenance of the cyclotron used to manufacture PET isotopes
Fluoroscopy and Interventional Radiology shielding – protection from the X-Ray Image Intensifier in machines like the Siemens Luminous Agile
Mobile CT Scan machine shielding, a more effective lead curtain alternate
An affordable and light shield which can be hung on walls or places where additional shielding is desired but existing setup cannot be changed; such as nuclear medicine dose calibration rooms, radiotherapy rooms.
Selective Internal Radiotherapy shielding while performing Interventional Radiology procedure
Shielding in Catheterization Laboratories
Great to design containers and auxiliary shielding for laboratories using radioactive sources
Standard thicknesses (Gamma protection) – 0.5'', 1.0'', 1.5'', 2.0'', 2.5'', 3''.
Standard thicknesses (X-Ray protection) – 0.1'', 0.15'', 0.2'', 0.25'', 0.3'', 0.4'', 0.5''
Standard Dimensions – 12''x12'', 24'x 12'', 18'' x 12'', 24''x 24''.
Material Properties
DOT (US), IATA, IMDG certified non-hazardous and environmentally friendly.

NFPA, HMIS rating 0 (Fire, Physical Contact and Reactivity)

Does not create internal sources of radiation.

Non-toxic, non-abrasive to human contact.

Contents safe as per OSHA and EHS regulations