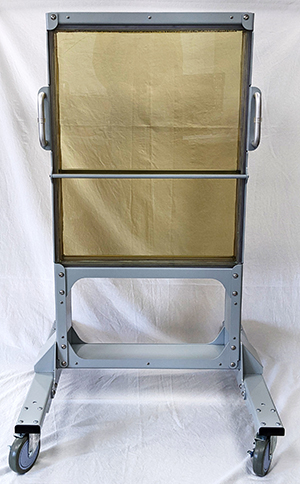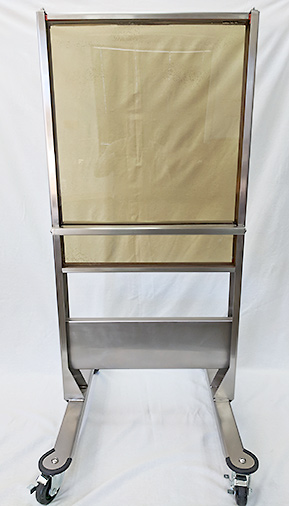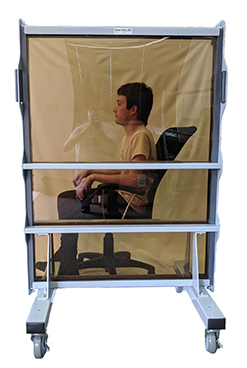 ClearView Radiation Shielding- Rolling Shields
Radiotherapy procedures use sources different variety of sources with different activities. These procedures require personnel protection from primary sources such as beta's, gammas, x-ray photons, and secondary scattering radiation.
A ClearView Radiation Shielding window is mounted on a frame on casters to protect against betas and gammas from radioisotopes used in radiation therapy and cancer treatment. The housing for the shielding with be fabricated out of impact resistant clear polycarbonate. The frame is constructed of lightweight aluminum with powder coat paint. The frame has handles for ease move handling and moving the rolling shield. The casters rotate 360o for ease of rotation with minimum footprint. The viewing window dimensions are designed to fit the applications and requirements.
This design provides a large viewing window while protecting hospital staff and family members from Co60, Cs137, I131, Sr89, Y90, high and low energy X-rays, etc. used inpatient treatments.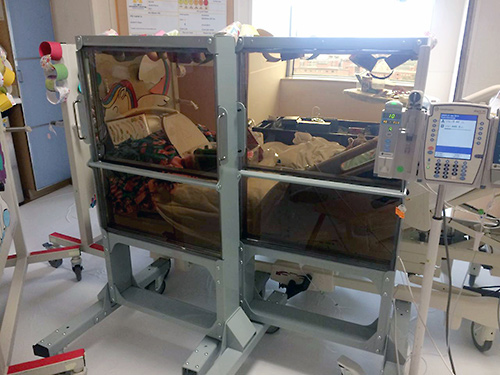 The ClearView RS rolling shield is suitable for clinical procedures such as –
Unsealed source Radiotherapy such as MIBG Radiotherapy
Targeted High-Dose-Rate Intraoperative Radiation Therapy
LINAC (Intensity Modulated Radiotherapy),
External Beam Radiotherapy, High Dose Brachytherapy
Contact X-ray brachytherapy
Cardiac Ablation
According to the American Society of Therapeutic Radiation Oncology (ASTRO), patients treated for a rising Prostate Specific Antigen (PSA) level requiring postoperative radiotherapy, get a cumulative dose in range of 60-65 Gy. It is undesirable for physicians and hospital staff to be in the room during and after some of these procedures.
Procedures such as MIBG Radiotherapy which treats Neuroblastoma (solid tumor) in young children as young as 3 years, use I131 between 250 mCi and 1200 mCi. Post procedure, the child has to remain confined in a room alone for 3 – 5 days and interaction between the child and doctors, hospital staff, family, etc. is limited to 20 to 40 minutes in a day. Having a transparent rolling shield is very suitable and ideal in such scenarios.
Standard thicknesses (Gamma protection) – 0.5'', 1.0'', 1.5'', 2.0'', 2.5'', 3''.
Standard thicknesses (X-Ray protection) – 0.1'', 0.15'', 0.2'', 0.25'', 0.3'', 0.4'', 0.5''
Standard Dimensions – 1'x1', 2'x1', 2'x2', 3'x 3', 4'x 3'.
Material Properties
DOT (US), IATA, IMDG certified non-hazardous and environmentally friendly.

NFPA, HMIS rating 0 (Fire, Physical Contact and Reactivity)

Does not create internal sources of radiation.

Non-toxic, non-abrasive to human contact.

Contents safe as per OSHA and EHS regulations