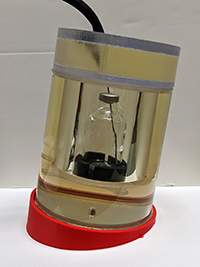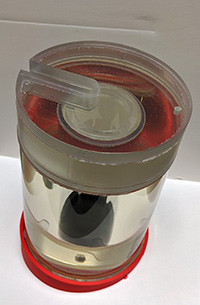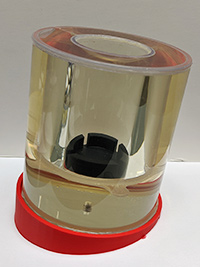 ClearView Radiation Shielding- Vial Shield
Vial infusion of radioisotopes such as Lutetium 177 during radiotherapy requires shielding for the nuclear medicine technologist administering a dose. ClearView RS vial shields provide significant workflow and operational advantages over available products. Lead vial shields are heavy to handle, and being RoHS restricted substance requiring special handling. Using lead vial shields has led to incomplete infusion of radionuclides such as Lu-177 which is used to treat Neuroendocrine Tumors and PSMA Therapy.
The ClearView RS® Vial Shield fits vials up to 30 ml, including those supplied by AAA (manufacturing Lutathera). There have been cases where heavy and opaque lead pigs have not been the most ideal shields for Lutathera infusion. To avoid incomplete infusion and easily monitor the volume of radiopharmaceutical (here Lu177) administered, a clear shield has been developed to house a Lu-177 vial using ClearView Radiation Shielding. This product allows the nuclear medicine technologist to fully administer a dose without any being left in the vial using a significantly lighter shield providing protection for betas and gammas.
Shielding Data
99.97% Attenuation for – Lu 177
3.6 mm Lead equivalency for Lu 177
Acrylic housing effectively blocks Beta emissions
Specifications
Fits upto 30 ml vials
Weight 7 lbs 4 oz
Height 6.75''
Outer Diameter 4.75''
6 mm thick acrylic
Removable lid
Material Properties
DOT (US), IATA, IMDG certified non-hazardous and environmentally friendly.

NFPA, HMIS rating 0 (Fire, Physical Contact and Reactivity)

Does not create internal sources of radiation.

Non-toxic, non-abrasive to human contact.

Contents safe as per OSHA and EHS regulations