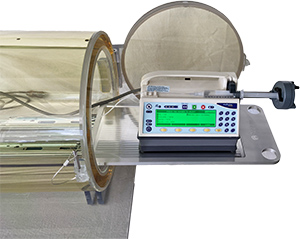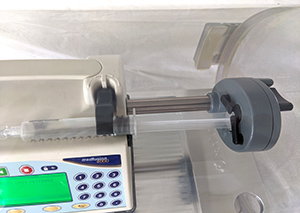 – View Through Shielding –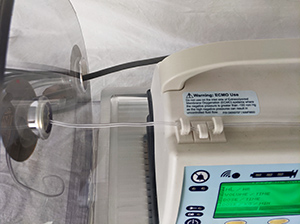 – View Through Shielding –
ClearView Radiation Shielding – Infusion Pump Shield
ClearView Radiation Shielding syringe or injection pump shield is designed to reduce exposure the nuclear medicine technologist. The ClearView Infusion Pump Shield fits most infusion pumps such as Grasbey, Medifusion, Moog Curlin, etc. is being used in Theranostics centers for infusion of radiopharmaceuticals such as Lutathera, Azedra, AdreView, Megatope, HICON™. The ClearView Infusion Pump Shield works for infusion treatments from Ac-225 PSMA, I-123 and I-131 mIBG therapies, Lutathera (Lu-177) therapies for Neuroendocrine Tumor Treatment, FDA approved PluvictoTM (lutetium Lu 177 vipivotide tetraxetan or 177Lu-PSMA-617) for the treatment of prostate-specific membrane antigen–positive metastatic castration-resistant prostate cancer (PSMA-positive mCRPC).
Both ends of the shield have openings for the infusion line going to the patient and the pump power chord. To use, slide the tray out, place the pump on the tray and make the necessary connections. Place the pump on the tray, start the infusion, and close the door.
The see-through ability of our shield allows the infusion process to be viewed by positioned a camera or a distance. Being a single lightweight and compact product, the ClearView pump shield eliminates the use of using lead bricks and provides a sealed environment for dose infusion.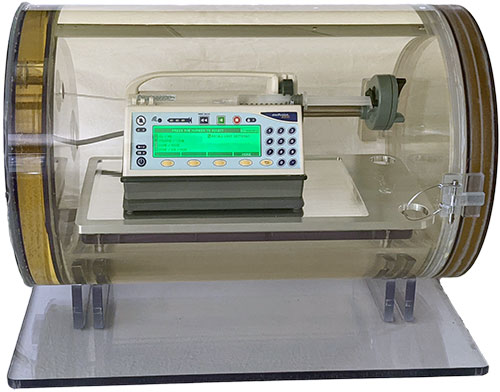 Shielding Data
1'' thick ClearView RS®
Greater than 80% from PET isotopes such as Cu64, F18 etc.
Greater than 99% attenuation of I123, I125, Sm153, Tc99m, Lu177, Gd153, Th201 gammas.
0.3'' Pb. Eq.
Effectively blocks Beta emissions
Specifications
Fits Medfusion, Grasby, Moog Pumps, etc.
Weight – 125 lbs.
Footprint – 21'' x 16''
Inner Diameter – 11''
Length, tray in – 23.38''
Length, tray out – 36''
6 mm acrylic housing
Material Properties
DOT (US), IATA, IMDG certified non-hazardous and environmentally friendly.

NFPA, HMIS rating 0 (Fire, Physical Contact and Reactivity)

Does not create internal sources of radiation.

Non-toxic, non-abrasive to human contact.

Contents safe as per OSHA and EHS regulations