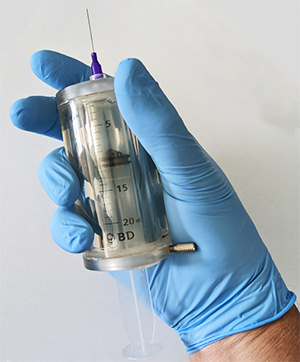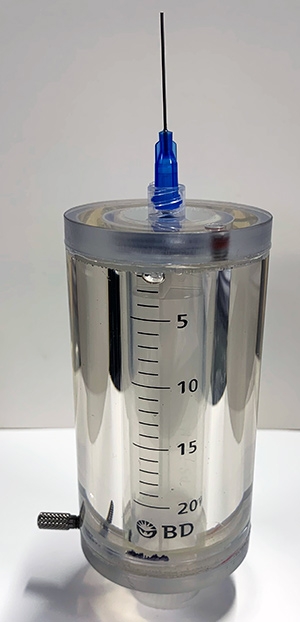 ClearView Beta – Gamma Syringe Shield 
The ClearView Beta-Gamma Syringe Shield is constructed of polycarbonate and acrylic materials which shields against Beta emission and errant bremsstrahlung, and the tungsten based ClearView solution inside attenuates gamma's. A thumbscrew holds the syringe firmly in place. Syringe shields available for 10cc and 20cc syringes. Other sizes available on request.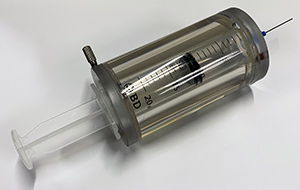 The ClearView Syringe Shields are designed to protect nuclear medicine technologists from sources such as:
Pluvicto (TM) and Lutathera (TM) Lutetium Lu-177
Zevalin Y-90
Strontium Sr-89
Phosphorus P-32
Quadramet Sm-153 and other beta-gamma emitting radiopharmaceuticals.
Specifications
20cc Syringe Shield: Part No. R100151-1
10cc Syringe Shield: Part No. R100152 -1
• Fits most 20cc and 10cc syringes
• Shielding:
** Beta: 0.25'' Acrylic
# Tc-99m: 91.5%
* Lu-177: 82%
# I-131: 65%
# F-18: 49%
*Measurements performed at the Johns Hopkins Hospital
# Measurements performed at Memorial Sloan Kettering Cancer Center
**Health Physics Society
Material Properties
DOT (US), IATA, IMDG certified non-hazardous and environmentally friendly.

NFPA, HMIS rating 0 (Fire, Physical Contact and Reactivity)

Does not create internal sources of radiation.

Non-toxic, non-abrasive to human contact.

Contents safe as per OSHA and EHS regulations